Memphis Grizzlies
2011-2012 Record: 41-25, 2nd in Southwest
Stat Leaders: Rudy Gay, 19.0 ppg. Marc Gasol, 8.9 rpg, 1.9 bpg. Mike Conley, 6.5 apg.
Depth Chart
C - Marc Gasol
PF - Zach Randolph, Dante Cunningham
SF - Rudy Gay, Quincy Pondexter
SG - Tony Allen, Josh Selby
PG - Mike Conley, Jeremy Pargo
Restricted Free Agents:
G OJ Mayo, FC Darrell Arthur, FC Marreese Speights
Unrestricted Free Agents:
G Gilbert Arenas, C Hamed Haddadi, G Lester Hudson
The Good:
A late season surge pushed the Grizzlies to the number 5 seed, where they pushed the Clippers to the limit. Marc Gasol continued to be a stabilizing force in the middle, providing solid scoring, rebounding and defense. Rudy Gay bounced back quite nicely from his injury, playing in 65 games and providing his usual all around production. Mike Conley had perhaps his finest season and has grown into a fine starting point guard, though a notch below All Star level. Lionel Hollins continued to show he is one of the best coaches in the league. The Grizzlies were a very good defensive team, holding opponents to only 93 points per game.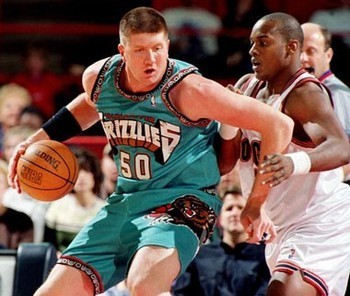 I am pretty sure the Grizzlies will not be having a Bryant
Reeves Vancouver throwback jersey night. Everything about
this picture is terrible!
The Bad:
For the second straight season the Grizzlies suffered a major injury to one of their best players. Zach Randolph suffered a serious injury the fourth game of the season. He came back late in the year but was not his normal self, and struggled to find consistency in the playoffs. Randolph is the team leader and it's best player, and without him at full strength it was going to be very tough to beat the Clippers and advance in the playoffs. That injury came off the heels of Darrell Arthur being lost for the year before the season even started. The Grizzlies front court depth was severely lacking, and trading for Marreese Speights did little to solve that problem. While Conley had a good regular season and has gotten better, his late game management in the playoffs was troubling. He still makes way too many mistakes and the team as a whole needs to do a much better job of holding on to the ball and not making mistakes. They play like a scared college team at times in crunch time.
Key Free Agents:
The Grizzlies have a trio of free agents they would like to retain. Marreese Speights had his ups and downs as a starter after Memphis traded for him, but he is still young and a talented big body. He would be a good first forward off the bench. Darrell Arthur filled that role for Memphis the past couple seasons, but the team doesn't know how he will bounce back from a serious injury. The blessing in disguise, of course, is that no one else does either, so Memphis could retain him on a discount. OJ Mayo is a dilemma. He is a great scoring threat off the bench but has not developed well in Memphis, and the Grizzlies have tried to trade him before. It will be interesting to see if they decide to match an offer sheet. They are over the cap and need to fill out the roster with bench players.
Projected Cap Space: -$4,418,406.
We are hearing of Rudy Gay trade rumors because everyone thinks that an owner of a small market team will not want to enter the luxury tax threshold. I don't see the Grizzlies trading Gay but they won't be able to add much more talent to this team. They are over the cap even without resigning key restricted free agents OJ Mayo, Darrell Arthur or Marreese Speights. Gasol, Gay and Randolph take up nearly the entire cap, with Mike Conley's 7 million a year pushing it into the red.
Amnesty Possibilities:
Four of the five Grizzlies starters; Gay, Gasol, Randolph and Conley, make about 53 million dollars a year. None of those four guys has a chance to be amnestied, even though Gay and Conley might be slightly overpaid. Other then that, the rest of the players are on cheap deals, so this clause will not be considered.
Free Agent Possibilities:
After retaining free agents, the Grizzlies will only have the veteran minimum to spend on free agents. The team really needs scoring off the bench, especially at the wing positions. They could target a cheap option like Jodie Meeks or Willie Green. The team would also like to add a veteran backup point guard, but might have to settle for Jeremy Pargo, who is already on the roster.
Draft Possibilities:
The Grizzlies will be picking 25th in the first round. This draft is deep enough that they should be able to find an immediate contributor, even that far into the first round. The team could draft a scorer to come off the bench like John Jenkins, Marquis Teague or Doron Lamb and allow OJ Mayo to walk. A backup big man could also be a need with Arthur and Speights free agents. Someone like Fab Melo or Festus Ezeli could give the Grizzlies 15 minutes or so per game, though I don't think either of those guys is ready to make any kind of impact in the NBA. Expect them to go on the offense as they look to replace Mayo.
Contending, Rebuilding or Status Quo?:
Somewhere between status quo and contending. I think this is close to a championship caliber roster if the team can retain their restricted free agents. The team is already over the cap without those guys, however, and would be very thin on the bench if the big men move on. Moving Rudy Gay for cap relief and a few parts has been discussed, but I think that would be a mistake. I would like to see what this roster could do at full strength.
All logos courtesy of
http://www.sportslogos.net/